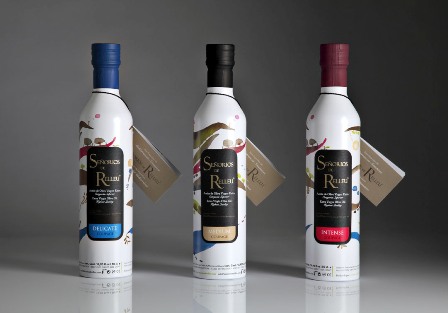 05 Dec

NEW EXTRA VIRGIN OLIVE OIL STYLES
Debates and discussions on how ingredient quality and taste change the taste of a finished dish continues unabated among professionals and foodies. By now, most North Americans know that olive oil is healthier than other fats, especially butter, but there are still many unanswered questions before arriving at a definitive answer.
Olive oil comes from a variety of soils, different species, processes, and quality levels.
The best is extra virgin olive oil (aka EVOO), which contain less than 1 per cent acidity, followed by virgin ( 1 – 1.5 per cent acidity), olive oil (1.5 – 2.5 per cent acidity, and pomace oil (more than 2.5 per cent acidity).
Olive oil and pomace oil are thin, essentially flavourless liquids and should be avoided as much as possible. I have tried both and can assure you, even considering the low price, that the quality fails to meet minimum standards for taste!
World's largest producer of all types of olive oil is Spain followed by Italy, Greece, Tunis, Lebanon, Turkey, Syria, Algeria, Portugal, Morocco, Australia, Chile, New Zealand, and The U S A (California).
More and more countries are starting to produce olive oil. The taste depends much on the soil, drainage, climate, olive specie, picking method, and processing. While Tuscan producers charge exorbitant prices for their EVOO, others in southern Italy market their products at relatively low prices, albeit they are blended with oils from other countries.
A Spanish olive oil producer, Senorios de Relleu in Valencia on the Mediterranean coast, came up with the idea of creating EVOO's of superfine quality in three graduations – delicate, intense, and medium. All contain 0.1 per cent acidity and display extraordinary flavour and textural characteristics.
Eliseo Quintanilla Almagro, the founder of the olive grove and company to process the fruit, uses exclusively indigenous olive varieties that yield aromatic, fresh, fruity, herbaceous, harmonious, and complex oils. Senorio de Relleu oils are packaged in specially designed recyclable light aluminium bottles by famous Spanish artist Paula Allende. These bottles protect the oil from light, which causes the flavour to deteriorate.
These three EVOO variations have been awarded several international awards in competitions in Spain, Los Angeles, New York, and Japan.
I have tasted all, and found the delicate to be outstanding for romaine lettuce salad, the intense very appropriate with mixed salads (greens, cucumbers, tomatoes, herbs
(basil, flat leaf parsley, and thyme), croutons, and the medium or cooking.
Senorios de Relleu oils are available in Toronto at he following fine grocery stores: McEwan's in Donmills Plaza Vincenzo's Gourmet Store, Waterloo Queen's pasta, Etobicoke
Alex on Yonge, 2500 Yonge Street Pimenton Harvest Wagon on Yonge and Summerhill