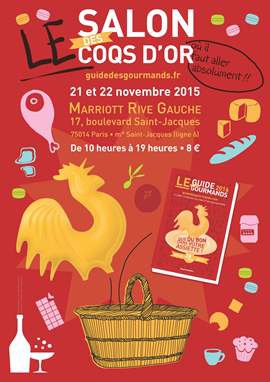 10 Jan

"La Guide Gourmands 2015", France
In November, 2014, On its 27th anniversary, La Guide Gourmands 2015 (guide for the lovers of good food) selected us as one of the best artisan producers of Europe.
Text in French:
Cette maison produit des huiles vierge extra très harmonieuses et fruitées, en assemblage des variétés cultivées à la finca – Manzanilla Villalonga, Arbequina, Blanqueta, Changlot Real, la fameuse Picual, Alfafara et Genovesa, plusieurs d'entre elles étant autochtones des montagnes d'Alicante. Trois cuvées: Medium (bien équilibrée entre fruitée, amère et épicée), Delicate (fine, fruitée, avec une touche citronnée-épicée) et l\'Intense (très fruitée, florale, de vieilles oliveraies d\'Alicante). Et des ravissants emballages avec bouteilles métalliques très légères, opaques, incassables… très joliment décorées. Derniére nouvelle sur les traces des Romains: le coffret "Salsa Mediteranea Oleogarum" (Garum + cuvée Medium) à 31,00 € et le coffret "La Familia" (trois huiles: Medium, Delicate et Intense) à 43,50 €. Quand l\'huile d\'olive devient un cadeau !