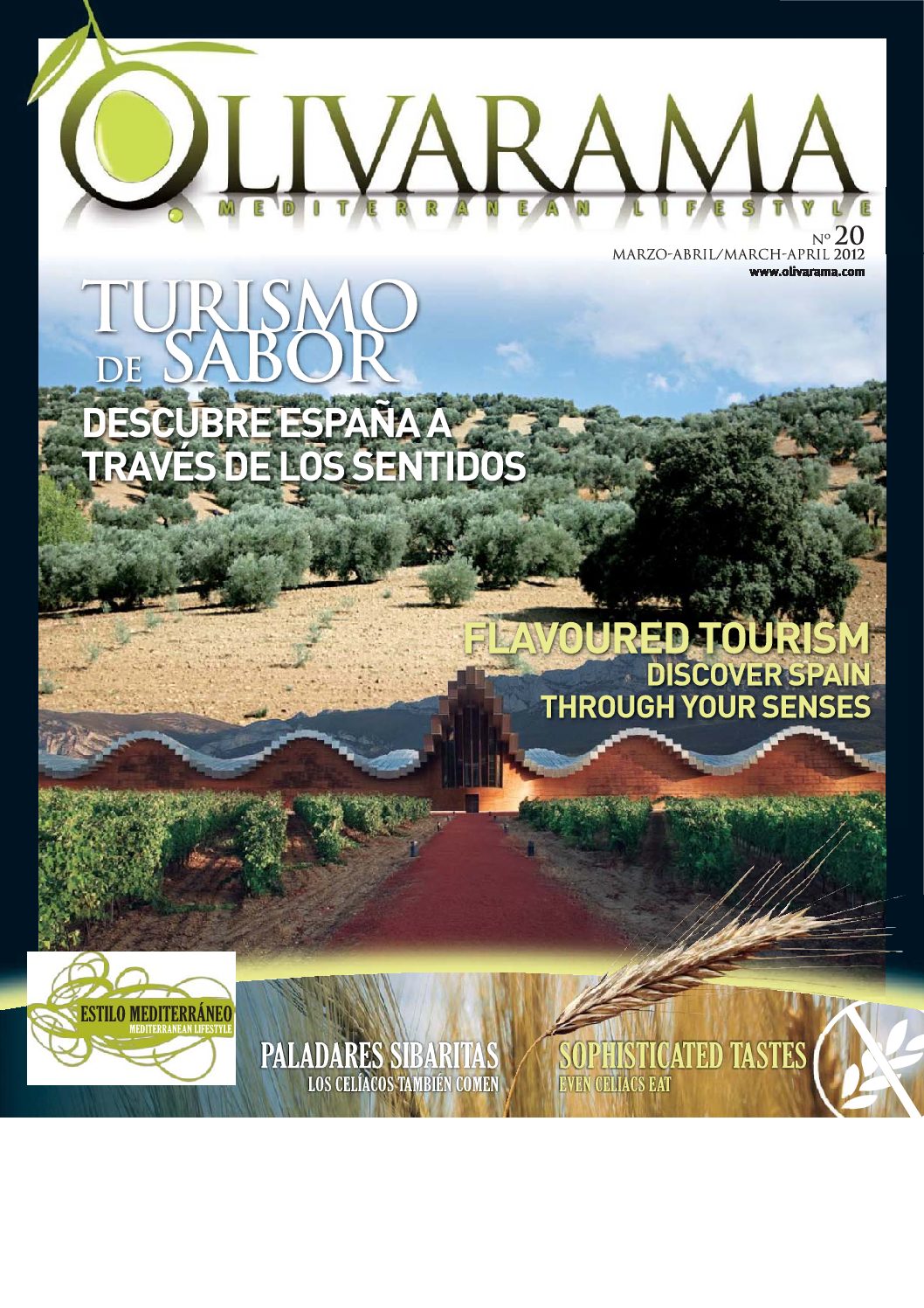 19 Mar

Interview with Señoríos de Relleu. Eduardo Palacio and Hugo Quintanilla in Olivarama Magazine
Apart from quality, our extra virgin aims to transmit emotions
Eduardo and Hugo are as different as they are complementary. One comes from the world of marketing, while the other is specialized in medicinal plants. Both, together with Eliseo Quintanilla, a pharmacist by profession and the father of Hugo, have set themselves the goal of revolutionising extra virgin through their very own olive oil project. And to judge by the results they have achieved in such a short space of time, they appear to be meeting their objective without much difficulty.
Señoríos de Relleu, is a family company that is not only recovering the olive-producing tradition of the Alicante region in which its multi-varietal autochthonous olive trees grow, it is also determined to help more and more consumers to learn how to appreciate this product. How? Well, the protagonists of this interview know exactly what they're doing. After perfecting an impeccable organoleptic profile, it's now time to surround it with sensations. On this ambitious mission, the original pack they have just launched onto the market represents the common thread.
In a world as traditional as that of olive oil, in which any attempt at breaking away from the norm tends to be observed with the critical eye of those who believe there is little room for more innovation in this field, it is very easy to pinpoint those people willing to leave the most radical conventionalisms behind.
They are betrayed by their gestures, the sparkle in their eye, their insatiable curiosity, the pride the express when talking about their work and, above all, the freshness and excitement they manage to transmit.
These are the exact traits that define Eduardo and Hugo, with whom we had the pleasure to talk to personally at the last edition of Madrid Fusión.
They themselves confess that they are not yet experts in olive oil. Nor do they need to be. Because since they started selling the first Señoríos de Relleu coupage they have proven that their work is on the right track. And it's not that they say so themselves. The excellent reviews received and the two prestigious international awards received demonstrate their already promising future.
But these two men are not happy to sit back and rest on their laurels. Now they aim to find new ways of connecting with the consumers and all of them channel emotions.
In previous conversations, you told us that none of the founders of Señoríos de Relleu had any relationship with the world of olive oil. So what brought you to take on this adventure?
Eduardo Palacio (E.P.): Señoríos de Relleu is an initiative of Eliseo Quintanilla, Hugo's father. His family has always been linked to the agriculture sector, specifically in the context of Murcia.
Although Eliseo studied pharmacy, he never lost sight of his origins, which is why he focused his profession on medicinal plants. With time, he was offered the possibility of buying some estates in Relleu and that is how this story began.
Hugo Quintanilla (H.Q.): My father has always been interested in the active ingredients that many medicinal plants contain. He considers them an added value. That is why he bought these lands and decided to pull up the almond trees grown here and replace them with olive trees. By doing so, he was seeking precisely that added value that the olive tree offers through its oil and, even its leaves, from which oleuropein is obtained, a cardioprotective and antibacterial agent. These were the main reasons which led him to choose this crop.
For my part, I also specialized in medicinal plants within the field of agricultural forest engineering. In short, we are a family group that covers a number of fields.
E.P.: In my case, my life has always been and still is a constant re-invention. I have always worked in marketing and sales, first in the world of building renowned Spanish and international brands, and then in sustainability and the environment which is where I met Eliseo and Hugo, who took me into the universe of olive oil.
I have always worked towards the search for differentiation, innovation and the re-invention of everything we do, so that we become renowned wherever we go.
What do you think that your experience from other fields contributes to a sector as traditional as the oil sector?
E.P.: I think our main advantage is that we have no prejudices. That allows us to face new situations from a totally different point of view. It is true that we have not inherited a traditional oil culture, and that enables us to adapt to the new demands of consumers from a different perspective compared to the conventionalisms. In this case, we inject a lot of freshness into this sector.
Before talking about your oil, we would like to know about some of the most relevant aspects of your company. How would you describe the setting in which you put all your excitement and effort into practice?
E.P.: Both the estate and the installations of Señoríos de Relleu are located 10 kilometres from the Mediterranean, at the foot of the Aitana Mountains, which reach a height of 1000 metres. Although there are some vestiges of the olive grove in the area, really there has not been any real olive producing tradition, the local farmers are mainly involved in almond production.
H.Q.: That's true. We have a number of estates in this area, which all together add up to 100 hectares, 62 of which are planted with olive trees.
Señoríos de Relleu, started to operate 15 years ago with the first plantations, although our brand of the same name was not born until last year.
Our aim in this project was to recover autochthonous varietals such as the Manzanilla de Villalonga, the Changlot Real, the Blanqueta, the Alfafara or the Genovesa. In some cases, we have focused on salvaging some old olive trees while in others we have planted new ones.
These trees also share space with others of the Arbequina varietal that we use to make coupages for those palates that prefer milder oils.
All of these trees coexist in a very special setting, which Eduardo has already described. They are cultivated according to the traditional method, in terraces that climb the slopes of the land and which allow us to take advantage of the micro-climate that envelops them. Indeed, the Alicante region is one of the Spanish provinces to receive most sunlight hours per year, with mild temperatures that render this land ideal for the olive tree.
Both the climate and the exclusiveness of the cultivars used make the extraction of very personal extra virgins possible. This season we obtained 15,000 litres and, according to our forecasts, we will obtain 40,000 or 50,000 litres in the coming years.
We believe it is important to underline the fact that this entire process takes place in El Teuladí, a distinguished country house from 1918 that we have rebuilt and adapted to the current quality demands, to house our mill, bodega and packing facility.
You mentioned that both the setting and the wealth of varietals represented on your estate allows you to obtain very special oils. What sensations to you aim to transmit through your product?
E.P.: First of all, it was really interesting for us that it was our clients, and not us, who highlighted the particular characteristics of our extra virgin compared to others produced in more typical areas of Andalusia or Catalonia. It is precisely this unanymous perception that has allowed us to gain a foothold among the more consolidated Spanish brands.
Through our oils we aim to surprise the consumers not just from one season to the next, but also within the same season. That is, our objective is to help people appreciate the oil but we also want them to discover different sensations every time they try it.
This is why our company philosophy is based on the idea of transmitting emotions, from start to finish.
And how do you manage to do this with your oil?
H.Q.: Right now we sell one sole coupage that combines all the varietals I've mentioned. Since launching the brand in February last year, we have already received some very good reviews from expert tasters and prestigious international competitions like TerraOlivo (Israel) or Los Angeles International Extra Virgin Olive Oil Competition (EEUU), that have awarded us the top prizes in their category. It is really satisfactory to see that the quality we knew we had achieved is also appreciated by third parties.
Now that we have obtained the quality level we were aiming for, we are immersed in the re-design of our bottle that we want to contain a range of single-varietal oils with all the varietals we grow.
E.P.: The truth is that the excellent reviews we have received also represent an important guarantee when it comes to distributing our oil, to the extent that right now there are various distributors interested in exporting it.
The clients themselves have also helped us define the profile of our oil, always indicating aspects of it that they haven't found in others they had tried previously.
Regarding your product image change, how will it manage to transmit the aforementioned emotions to the consumer?
E.P.: We intend to stay very close to the market and, by doing so, we observe that the everyday consumer is constantly evolving.
At present, the world of brands is still very important when seducing the consumer in his purchase decision. And lately, this involves engaging emotions.
When a person buys a brand, they no longer just consider the fact that it is supported by a company that does things well, but also offers something more. That something more, right now, consists of emotions.
In our case, the new pack may transmit sensations, although it has not been easy to discover how to do so. We started this interview telling the story of Señoríos de Relleu and that is precisely what we aim to do through our new packaging.
To do so, we have decided to illustrate the new aluminium bottle with a naïf-style image telling the story of Señoríos de Relleu. The Masía El Teuladía appears in it, sharing the space with Eliseo in a prominent position. Hugo and the people who work on the estate are also present. We can also see the Mediterranean, the mountains, the light, the awards obtained and, even the painter of the painting. However, all of these elements are depicted very subtly.
As a whole, this bottle is very eye-catching when placed on a shelf, not just because it breaks away from the norm but also because it aims to tell a story. People are avid for stories and we hope to satisfy their curiosity, both through the actual packaging itself and the elements it is made up of, as well as the experiences those selling our oil can transmit.
H.Q.: Apart from communicating emotions, our new image is also pursuing a functional objective. Having analysed the market, we observed that the vast majority of quality oils are packaged in glass bottles. The most innovative of these have some sort of engraving or printing, while others opt for materials such as ceramics or components linked to the world of luxury.
That was when we decided to do something different by choosing aluminium. This metal, apart from being aesthetically appealing, offers a series of interesting advantages. One of most remarkable of these is that it preserves the content by preventing light from penetrating, maintaining a constant temperature better and by not transmitting either strange flavours or aromas.
On the other hand, it is also a more sustainable material than glass as, apart from being recyclable and lighter, it causes fewer CO2 emissions in its manufacture and transportation. Moreover, this type of packaging does not break, it just gets dented, although for that to happen it needs to receive an impact.
And what do you think should be a reasonable price for a product as complete as the one you have just described?
E.P.: As we have already said, we do not aim to sell a luxury product, although the price must include all the value we have added. That is why, in my opinion, a reasonable price would vary between 12 and 13 euros.
Do you believe the Spanish consumer is capacitated to appreciate the benefits of a product like yours?
E.P.: It is true that in Spain we still need to expand our olive oil culture. Rather than on the consumer, this depends on the actual companies making up the sector. If we were capable of informing, motivating, provoking or exciting the consumers, they would be far more sensitive to the extra virgin and would pay more attention to us.
In as far as possible, we aim to do our part in such a way that the consumer will gradually discover and take an interest in this product. In this sense, we are about to sign a collaboration agreement with the University of Alicante, and hope to jointly organise activities relating to olive oil, such as tasting sessions and visits to the olive grove and mill.
On the other hand, I also think it is necessary for the sector to form associations with this main goal. It is important to remember that first and foremost it is the sector itself that needs to be educated.
At this point, I would reiterate the need to transmit emotions, but always hand in hand with innovation. The distribution channels are already doing so. We are seeing more and more gourmet shops that offer tasting sessions and also more and more restaurants that include a gourmet space from which to purchase products directly.
In reality, I believe that we all form part of the same team, which is why when we present the new bottle at the Salón de Gourmet, we would like all those people who, like yourselves, have somehow or another contributed to making this project a reality to be present.
Hugo Quintanilla and Eduardo Palacio
Born in Alicante in 1981, Hugo Quintanilla Ripoll is the youngest of four brothers. Even from a very young age, the crops his family grew awoke his curiosity for the world of agriculture and medicinal plants. This is why he studied Technical Agricultural Engineering and Agricultural Engineering, before going on to specialize in the field of Agri-food Industries and Vegetal Production. On the other hand, his attraction to the environmental fields also drove him to study Forest Engineering. At present, his profession is related to olive growing and management of the plantations. Bit by bit, he is also becoming an olive oil taster.
Eduardo Palacio Oñate was born in Bilbao in 1962. In his youth, he studied at the Business and Economics Faculty of Sarriko, in Bilbao, and then continued his Marketing training at the Escuela de Organización Industrial de Madrid.
Professionally, he has worked in both the sports and normal clothing industry, for brands such as Kappa Sport or Ágatha Ruiz de la Prada. He has also worked in the field of sustainability and the environment with Be Sapiens and Ecobosques. When he arrived in Alicante 10 years ago, he discovered he was allergic to the olive tree yet, on the other hand, he felt a strong attraction to the olive oil world… a paradox perhaps?
Up close and personal:
An extra virgin: The extra virgin on the first day of the Arbequina and Changlot Real harvest which we produced this year in a limited edition.
An olive varietal: Changlot Real.
An olive grove landscape: The sea of olive and almond trees of Relleu (Alicante).
A restaurant that takes an interest in olive oil: La Taberna del Gourmet (Alicante).
A dish with olive oil: Lemon sorbet with extra virgin.
A wish for olive oil: For more people to discover it.