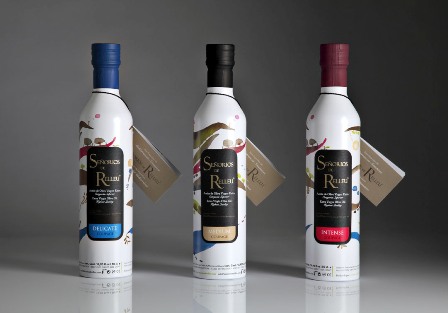 08 Apr

Food and Beverage Innovation October 2013 Anuga
Olive oil supplier, Señoríos de Relleu, has launched naïve-art style aluminum bottle designed by Paula Alenda, which shows the people who founded Señoríos de Relleu, the mountains, the Mediterranean……
The Finca Teuladi Estate ("teuladi" means sparrow in Valencian), the oil press, awards obtained at Terraolivo (Israel) and in Los Angeles (USA), and of course the olive trees and their fruit, whose delicious juice it contains.
The company's Intense Coupage is a blend from old and endemic olives trees from Alicante. It's an aromatic fruity, very intense and complex extra virgin olive oil, which is rich of aromas distinguished from a touch and floral citrus scent light up hay, going through the fresh scent of grass and interesting shade of fig tree. To fully preserve the firstclass nutritional and
sensory properties of the evoo the company decided to produce an innovative, unbreakable, lightweight, hardwearing, recyclable and easy to use aluminum bottle that protects its contents from direct light.